PDF Quadrature Encoder
System Overview
Bolton Engineering worked with the client to design an Intel/Altera Max-series PLD (Programmable Logic Device) to replace the three quadrature encoder ICs on the board. Bolton Engineering took control of all design files, and made the schematic and circuit board layout changes necessary to adapt the design to using the new PLD.
Project Scope
Bolton Engineering designed the schematics and circuit board, wrote and simulated the PLD code, fabricated and debugged the hardware, and built prototypes. Ten fully operational boards were delivered less than 10 days after starting work.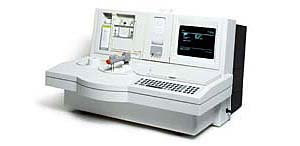 The client had been producing the Blood Analysis System for only five years. The design had used a motor control board from another piece of equipment, though, which was of much older vintage. The client realized that a quadrature encoder interface IC on the board had recently gone obsolete, but was confident that a new "direct substitute" from the same IC manufacturer would provide equivalent operation. A full production run of boards were made with the new IC.

Unfortunately, the new boards did not work properly. Although the new IC worked almost identically to the original IC, one minor function operated differently, and none of the boards worked. Production was halted and Bolton Engineering was called in to examine the design and make recommendations.