PDF Force-Feedback Joystick Controller
System Overview
Bolton Engineering worked with the client, an industrial design firm, and a mechanical design firm to specify critical design parameters and write a specification. Instead of using the company's PC-based control card (also designed by Bolton Engineering), Bolton Engineering recommended interfacing to the PC via the industry standard Extended Parallel Port (EPP).
Three 100 Watt PWM motor controllers.
Three high-resolution encoder inputs with overspeed error detection.
Three 12-bit A/D interfaces to potentiometer position sensors Integral 1mS system timer
Interfaces to standard PC Extended Parallel Port (EPP).
All digital electronics implemented in a single Intel/Altera Flex-series Field Programmable Gate Array
Uses "off-the-shelf" external power supply.
Over-current detection and shut-off.
Created connector junction boards to simplify internal wiring and reduce assembly time.
Designed to meet FCC part 15 class B; EN 55022 class B; IEC 1000-4-2, -3, -4; EN 60950
Results
Product delivered on time, for critical show.
Use of EPP interface allowed product to work with laptops, and with Sun workstations.
"Pass-through" EPP interface allowed two joysticks to operate off of one computer.
Electronics met or exceeded all design goals, and came in 40% under budgeted cost.
System won Computer Graphics World 's "Best New Product Award."
Project Scope
Bolton Engineering was responsible for writing the specification, creating schematics, writing and simulating the FPGA, laying out the circuit board layout, testing, writing documentation, and ensuring regulatory approvals.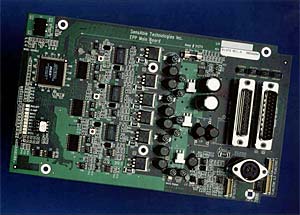 SensAble Technologies had built a high power force-feedback (Haptic) joystick for several years. They wanted to produce a moderate-cost desktop version in time for an upcoming show.