PDF Board Tester
System Overview
The Board Tester interfaces to the OMNI via the OMNI's digital switch and analog potentiometer inputs. All OMNI inputs and outputs are connected to the Board Tester. During test, the OMNI switch inputs are temporarily reconfigured as control outputs that send control data in serial form to the Board Tester. An Intel/Altera Max-V series Programmable Logic Device (PLD) decodes the serial communication stream and configures the tester. The Tester creates simulated signals to exercise the encoder channels and inputs. It loads the amplifier outputs and observes them at several power levels. The Tester monitors motor amplifier output offsets and writes them to OMNI processor board Flash memory.
Project Scope
Bolton Engineering wrote the specification, designed the schematics, wrote and simulated the PLD code, designed the 4-layer circuit board, debugged the system, wrote the application software, and delivered three testers.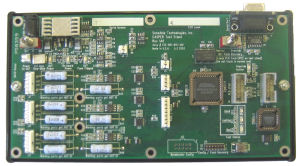 Bolton Engineering had designed the electronics for the SensAble Technologies OMNI Haptic Device. The system was to be produced in China, and SensAble wanted to make sure that all boards were fully tested prior to shipment to the U.S. Mixed-signal boards often can be difficult to test, except by expensive, general-purpose, full-coverage bed-of-nails testers. Bolton Engineering proposed building a test station that would allow the OMNI embedded processor to functionally test itself.