PDF DVI Video Development Board
System Overview
The Development Board contained a variety of interfaces. Some interfaces were very high speed and required matched length and matched impedance tracks. Some tracks had severe requirements for signal crosstalk.
Serial RapidIO packet-switched interface, running at 2.5GBPS.
DVI input, to Analog Devices AD9887A 140MSPS DVI Input with sync processor and clock PLL.
RGB Video Output to 50 Ohm, 8-bits at 180MSPS.
High-speed 12-bit A/D channel, 210MSPS for composite and HD video
Programmable 14-bit D/A, 180MSPS, used by client as flexible waveform generator
Large custom-programmed Intel/Altera Stratix-class FPGA in 1020 pin BGA.
Two serial RS-232 ports.
Thirty-two lines digital I/O
Expandable connector slot into which boards with new functionality may be placed
Multi-Voltage Power Supply, for on-board logic and for other system electronics


Project Scope
Bolton Engineering completed the schematics, performed a design review on critical design sections, and designed the circuit board. Bolton Engineering also bought components, fabricated and assembled boards, and did a first level hardware debug and system bringup. The project was completed in twelve weeks, on schedule for a company demonstration. The first-pass boards performed all required functions and worked to specification.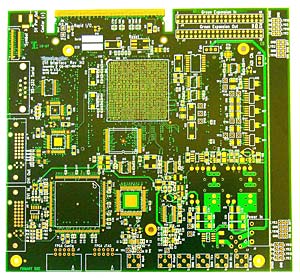 The Client was working on a laser projection system and needed a flexible controller board to accept a variety of video formats. Internal staff and consultants had done most of the work, but were running short of time to get the job built. The company brought a mostly complete set of schematics to Bolton Engineering, and Bolton Engineering finished off the design, created the circuit board layout, and built prototype boards.