PDF Display Reader for the Blind
System Overview
Blindsight had developed proprietary vision-recognition algorithms that were able to separate display images from complicated scenes and efficiently recognize series of numeric digits. Bolton worked with Blindsight to specify and develop a miniaturized, battery-powered system capable of running the computationally-intensive Blindsight software.
This Display Reader was constructed around a low-power Intel StrongArm processor, an Intel/Altera MAX PLD-based frame grabber, and a low-power CMOS image sensor. The Display Reader was implemented in two steps. Initially, Bolton Engineering constructed a development board with Ethernet and other interfaces that ran embedded Linux. This board provided an excellent development environment, allowing Bolton Engineering and Blindsight to efficiently work together to fine-tune the algorithms in an embedded environment. Later, a miniaturized hand-held version was created, complete with a battery power supply and a daughter debug board with Ethernet and serial ports. Finally, Bolton Engineering wrote dedicated drivers to eliminate the several second Linux boot time.
For additional information, see www.blindsight.com.
Project Scope
Bolton Engineering wrote the specification, designed the schematics, developed an Intel/Altera MAX PLD-based image grabber, developed two generations of circuit boards, got Linux running, wrote diagnostic and driver software under Linux, ported Blindsight's code to the embedded environment, debugged the system, and delivered working prototypes.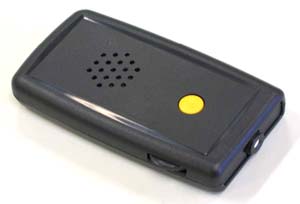 The Blindsight Display Reader reads electronic appliance numeric displays to the Blind. With the Display Reader, the Blind can now use and control off-the-shelf microwave ovens, appliances, vending machines, and VCRs.